Offer Details
get 2for1 offers at top attractions when you travel with us
Raglan Castle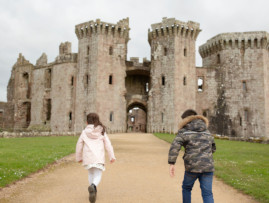 Paper Voucher only

The unmistakable silhouette of Raglan crowning a ridge amid glorious countryside is the grandest castle ever built by Welshmen.
We can thank Sir William ap Thomas, the 'blue knight of Gwent', for the moated Great Tower of 1435 that still dominates this mighty fortress-palace. His son Sir William Herbert, Earl of Pembroke, created the gatehouse with its flared 'machicolations'.
These stone arches allowed missiles to be rained down on attackers. But Raglan came 150 years later than the turbulent heyday of castle-building. It was designed to impress as much as to intimidate.

Amlinell ddigamsyniol Rhaglan yn coroni cefnen yng nghanol cefn gwlad gogoneddus yw'r castell crandiaf a adeiladwyd erioed gan y Cymry.
I Syr William ap Thomas, neu'r 'marchog glas o Went', y mae'r diolch am Dŵr Mawr amffosog 1435 sy'n dal i daflu ei gysgod dros y gaer-balas nerthol hon. Ei fab yntau, Syr William Herbert, Iarll Penfro, a greodd y porthdy gyda'i 'rhyngdyllau' ymledol.
Roedd y bwâu carreg hyn yn golygu y gallai taflegrau fwrw i lawr ar ymosodwyr. Ond daeth Rhaglan 150 o flynyddoedd yn ddiweddarach nag oes aur derfysglyd adeiladu cestyll. Fe'i dyluniwyd i greu argraff gymaint ag i frawychu.
* From Newport station take the bus: 11km/7mls Monmouth, route No 60, Newport-Monmouth. 2-hourly daily.