Offer Details
get 2for1 offers at top attractions when you travel with us
David Bowie London Tour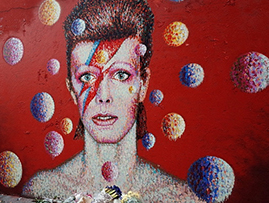 Exclusions apply: This tour is available March - October
Advance booking only 
Subject to availability

David Bowie - a hero for more than one day! This David Bowie tour of London will show you many of the places in the capital that played a part in the enigmatic singer's rise to global super stardom.
Born David Jones in 1947, the Heroes hit-maker joined several bands, before eventually finding fame and chart success as a solo artist, supported by his band the Spiders from Mars. His rise to fame is an amazing story for this artist who was the master of reinvention, right up until his death in 2016.
This two and half hour walking tour will show you Bowie's London, including his Stanfield Road childhood home, his primary school and his favourite teenage haunts around Brixton, Southwell and Soho where he hung out with friend Marc Bolan. Many of the places have become shrines to the much-respected artist and seeing them with your own eyes is actually quite emotional.
Hosted by an expert Brit music guide, you'll discover all sorts of things about David Bowie and his alter egos, in particular Ziggy Stardust. A highlight has to be the tiny Trident Studios tucked away in Soho, where Space Oddity, Hunky Dory and the Rise and Fall of Ziggy Stardust and the Spiders from Mars were all recorded.
This David Bowie tour on foot is a fantastic way to delve into pop history and learn more about one of the UK's most influential and creative artists of recent times. Thoroughly fascinating stuff for any Bowie fan.