Offer Details
get 2for1 offers at top attractions when you travel with us
Warwick Castle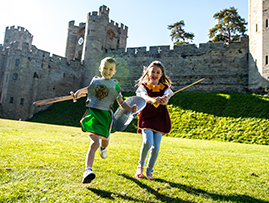 Exclusions apply: 3 - 15 January, 18 February, 24 - 31 December 2023
Advance booking only

Experience more than 1,100 years of history in one of Britain's finest medieval fortresses. Spectacular shows and attractions, spellbinding storytelling and exhilarating experiences make Warwick Castle one of the most exciting historic locations in Europe.

Set in the heart of Shakespeare's England, with over 64 acres of beautifully landscaped grounds, Warwick Castle is the ultimate backdrop for breath-taking shows and activities for all ages, all year-round. Witness more than 60 high-flying birds soar across the skies, in the UK's largest bird of prey show; The Falconer's Quest. This dramatic, dynamic display of aerial acrobatics is set in a stunning location on the banks of the River Avon. Behold arrows firing before you as the resident Bowman demonstrates his incredible archery skills, in the shadow of medieval turrets and ramparts.

Join Zog the loveable dragon on the Quest for the Golden Star! This interactive 3D activity trail teaches all young budding dragons the skills they need to earn their very own star. Extend the adventure with an overnight stay. The fully medieval-themed Knight's Village offers wooden lodges and glamping tents, nestled in a secluded woodland grove within the castle grounds. Luxury suites are tucked-away within the castle itself, hidden within its tallest tower.

Valid for standard Castle daytime tickets only. Not valid for any secondary ticketed attractions / evening events, or the accommodation.

For full Merlin T&Cs please check here.