Offer Details
get 2for1 offers at top attractions when you travel with us
The True Crime Museum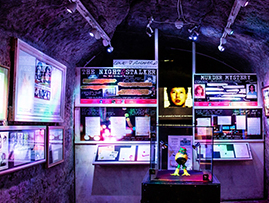 **Before you book your ticket or print your voucher, check the full Days Out Guide travel advice here**
**Please check the attraction's website directly for their latest Covid-19 safety measures, information and visitor requirements**

A chilling but fascinating insight into the world of Serial Killers, Forensics, Gangsters, Prisoners, Poisoners and more! Hundreds of exhibits, many straight from Scotland Yard set in eerie seafront CAVES!

See a GENUINE lethal injection deathbed, the ACTUAL acid containers used by John George Haigh to dissolve his victims. Guess the crimes of the celebrities from their police mug shots, then enter the Cinema Cave where infamous murderers describe their hideous deeds!

Suitable for all ages, wheelchair accessible and dog friendly, located on Hastings Seafront close to the PIER.