Offer Details
get 2for1 offers at top attractions when you travel with us
London Eye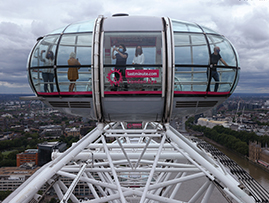 Exclusions apply: 25 and 31 December 2023. Closed 9 - 22 January 2023.
Advance booking only 

2FOR1 Admission: £36.00  (Price subject to change)
A trip on the lastminute.com London Eye is truly captivating, a must-do and has been Londons number one visitor experience for over a decade. Step into your capsule and feel the exhilaration as you rise up over the Thames. Come face to face with the Houses of Parliament and Big Ben, before soaring above them - up to 135 metres on the worlds tallest cantilevered observation wheel. There are mesmerising 360-degree views of the capital laid out before you - Londons most famous landmarks and up to 40km out of the city to Windsor Castle on a clear day.

Image Credit: Press Association

For full Merlin T&Cs please check here.